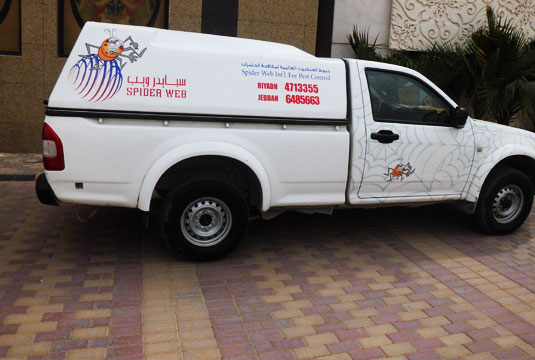 Spider web Int'l For Pest Control is one of leading companies in pest control, rats, and termite with international standards with high experienced experts to provide the following services:-
Control and fighting all harmful insects in scientific and healthy ways (cockroach, ants, rats, moth, bug, flies, mosquito, termite).
We perform our work in (homes, palaces, restaurants, factories, hospitals, hotels, schools, government departments…..etc).
Application of latest technology in pest control area with maintaining environment with odorless materials without need to leave the handled site or close during the control process or after completion thereto.
Application of high quality products from reputed companies such as (Bayer , Germany- Sengenta , Switzerland- and more others).

Highly qualified technicians having specialized training courses on latest products and devices.
Accurate time in obligation with visit schedules to maintain the site without insects.
We have a long experience in this area and ready to apply ( HACCP) at food factories and labs.
We provide guidance advice, heath instructions and train your staff to maintain friendly environment and without insects.
We carry on integrated and comprehensive control program for sensitive and dangerous locations such as restaurants and food factories and others.

Important information:
Your request for free inspection is not obligatory to sign a contract.
Spider web will not make any visit unless having previous appointment with the client (unless there is time schedule previously agreed upon).
Follow up heath instruction issued by Spider web is important to have environment without insects for a long period (provided freely by Spider Web to its clients).
Spider Web guarantees its executed works by providing free visit in case of any complain.
Spider web work to get rid of the insects and its growth (critical points) to maintain the environment safety.
TEST

INSECT CONTROL

Spider web

A leading provider of

pest control

Landscaper

Spider

Web

services

of

a landscaper

in the hands of

specialists

and

engineers

Spider

Web

services

also

Sterilization

Systems
INSECT CONTROL

Spider web

A leading provider of

pest control
Landscaper

Spider
Web
services
of
a landscaper
in the hands of
specialists
and
engineers

Spider
Web
services
also
Sterilization
Systems